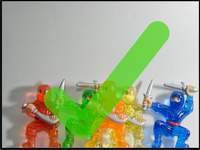 Ninja Day comes on December 5th, but it comes so stealthily that you may not notice until it has passed -- Much like the Silent Ninja theme, where you may not notice the patron until they're done checking out. Well, unless they mess up, at which point the entire library will know about it.
Both the main variations of this theme tend to go over well, with the Silent Ninja theme best for those who wish the self-checkout would just be quiet and scan some books.
Beyond those themes, Steph, Andy, and Gregg are likely the themes with the most impressive voice acting.
To install the theme, please choose from one of the files linked below. Then follow the directions on the instructions page.
You may also want to check out the Ninja credits page.
A few examples:
Ninja (Andy) Theme video (in MP4) (Converted AVI)
Ninja (Carolyn) Theme video (in MP4) (Converted AVI)
Ninja (Deena) Theme video (in MP4) (Converted AVI)
Ninja (Gregg) Theme video (in MP4) (Converted AVI)
Ninja (Laura) Theme video (in MP4) (Converted AVI)
Silent Ninja Theme video (in MP4) (Converted AVI)
Ninja (Steph) Theme video (in MP4) (Converted AVI)
Downloads