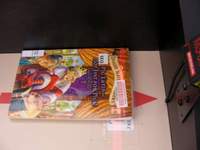 Have you watched patrons, where you swear they never read the screen, then run into problems? With this theme, patrons often intensely look at it, deciphering it word by word.
This theme tends to be popular among the more seasoned library veterans. Beware, though, as some of them will try to confuse you by actually speaking this odd language.
To install it, please download the self-extracting InstallPigTheme.exe and follow the directions on the instructions page. (There's also a zipped version - InstallPigTheme.zip)). This download contains three versions of the theme, with mostly-different vocal samples in each theme.
Sequoya has its own version of the install file.
You may also want to check out the Pig Latin credits page.
A few examples:
First, a video on Youtube of the theme:
Next, other videos downloadable from here. The first is the same video as the one on Youtube.
Pig Latin "best of" Theme video (in MP4) (Converted AVI)
Pig Latin (Clay) Theme video (in MP4) (Converted AVI)