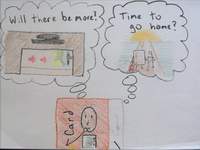 Once upon a time, there was a library card...
...and so it begins. Follow the earnest library card as it attempts to help bring joys home.
With expressive, crayon-drawn graphics and a choice of Andy, Clay, and Nicky as readers (Links are the "Scan Card" sounds), the library card will help patrons check items out and avoid the beeping library troll.
You may also want to check out the Storybook credits page.